In Memoriam
(formerly Oedipus and Tisiphone's Love Nest)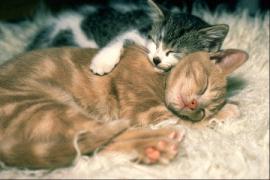 Photograph © Alan Wrigley 1982
This picture may not be reproduced in any form without written permission from the copyright holder.
Oedipus and Tisiphone grew up together and adored each other. Sadly, both have now gone to the great cat basket in the sky, Oedipus on 6th August 1996 after a long and brave fight against liver cancer, and Tisi on 26th March 2001 at the ripe old age of 18½. This page will be maintained in their memory.
Personal details
Date of birth
1 September 1982 (Oedipus)
10 October 1982 (Tisi)
Place of birth
Halifax, West Yorkshire, UK
Colour
Cream tabby (Oedipus)
Tabby and white (Tisi)
Hobbies
Sitting on anything their humans are reading
Pulling up the carpet
Scratching at the bedroom door at 5am
Work history
Primary research project
Scientific study of humans with tin-openers
---
Oedipus & Tisi's Photo Album - some more pictures of the two of us, as well as other cats our human guardians have known.
---

Back to Alan Wrigley's home page
This page was created using HTMLEdit on an Acorn Risc PC